The Wire has been given a lot of press attention and critical acclaim. And rightly so. It's ridiculously great storytelling, impeccably put together and as addictive as heron. But it's also had a rather adverse effect on the world of film. It's not The Wire's fault but over the past few years certain films (Pride and Glory, American Gangster) have tried to ape the maginificent show, and also many of it's network's (HBO) product. The most obvious example of this, Brooklyn's Finest is in cinemas now.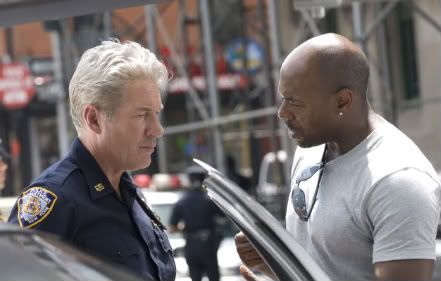 The biggest reason why Cinema can't be HBO, at almost almost 60 hours, almost 3853 minutes, The Wire has literally days to tell it's complete story. Brooklyn's Finest has a little over two hours. But it doesn't stop deluded film-makers trying.
For those very few of you unaware of HBO is it's an American Television Network that prides itself in making quality, (and this next word is very important) uninterrupted television. Here's a few examples; The Sopranos, Band Of Brothers, The Wire, True Blood, Curb Your Enthusiasm, Deadwood, Six Feet Under, Oz, Flight Of The Conchords, Treme and the new, directed by Scorsese, starring Steve Buscemi, Boardwalk Empire.
So why is the uninterrupted part so important. Funnily enough it's got very little to do with the basic annoyance of having your favourite show stop and start every few minutes but much more to do with structure. The majority of Western Television, both American and British, will have a checklist of exactly when certain 'action beats' (dramatic incidents) can happen. Before the opening credits you'll get a set-up, then cliffhangers dotted around the ad breaks, finally a resolution just before the closing credits, sometimes as little as 2 minutes long.
This format almost always leads to repetitive, over-familiar drivel. Why do you get that feeling you've seen it all before when watching TV? Because you have seen it all before. Most modern cinema isn't any better, the 3-Act Structure of Beginning/Middle/End is essential to tell a story but unless the writer or director knows how to subvert said structure you'll be leaving the theatre with a nasty case of DejaVu.
What HBO has done is open up this structure, play with it and draw it's own way of telling a story. It's no surprise that many of its stellar writing crew were authors. It 'reads' like a 60 hour novel. Cinema can not do this.
So why single out Brooklyn's Finest as the archtyple example? First and most glaringly obvious is that parts of the cast reads like a who's who of Baltimore regulars. Micheal Kenneth Williams (Omar Little), Hassan Jordan (Wee-bay), and Isiah Whitlock Jr. (Clay Davis) all crop up as waterdown versions of their B-More counterparts. One particular scene of Don Cheadle and Wesley Snipes looking over a balcony onto their turf is an almost shot for shot reply of Barksdale and Bell, it even comes complete with its own 'I know something you don't know' double crossing.
Then there's the myriad of plots bustling for screentime. Ethan Hawke as the cop who'll stop at nothing to help his family, even if it means not only fracturing the occasional law as putting it in a bodybag. Richard Gere as a cross between Travis Bickle and his hooker saving role in Pretty Woman. Plus the aforementioned Don and Wes show, all of which could fill a film on their own. But then it wouldn't be the 'Wire meets Crash' film it so desperately tries, and fails, to be.
Subtlety that is usually reserved more for film that 'normal TV' goes out of the window. You need a scene showing that the undercover cop is unhappy in his work why not soundtrack his appearance with The Platters 'The Great Pretender'. Not the most heinous crime in the world but by being so close in appearance to The Wire you risk fans of that show (and we are an incredibly protective, somewhat geeky bunch) screaming at the screen that David Simon (the creator) and co. would never stoop to such obvious levels.
Leaving Brooklyn for a moment another example of Cinema aping HBO can be found in it's most literal translation; Sex and the City. Sex and City, and I may risk a schoolyard beat-down for this, isn't that bad. Please don't get me wrong the films are the cinematic equivalent to being given 12 hours at an all you can eat shit-buffet and being told you can't leave until you've cleared the tables. But the original show had a certain quality to it, least of all in its groundbreaking portrayal of women actually enjoying sex. The films, however, stretched this to breaking point in a reverse of what Brooklyn's Finest does to The Wire. SATC is self-contained and best at less than one hour for one story. The Wire is a 60-hour novel, impossible to condense.
What cinema has given to HBO could easily fill another article (high-end production values, incredible casting, etc) but TV and Film are two different mediums. For now, unless we increase running times to days, the labyrinthine plots and in-depth character development must remain rooted on the small screen for fear of capsizing what film can do.
Sadly The Wire is dead. Let's leave it that way.